---
Episode 56 - Swiss Gfeller Railroad Trackman Phone, 1948
Description
This trackman phone was made by Gfeller [2] in 1948 (Date on coil). It is not marked and I have no sources for it, but I assume it was used by the Swiss federal railway or some Swiss private railway system. What is noteworthy compared to other Swiss trackman phones is that it has a built in dial and supports also CB/Aut. networks. But it does not have the special line plug which is present on other Swiss trackman phones, maybe an indication that it was rather used by a private railway than the federal railway.
It is built into a beautiful hardwood box. The handset is the Swiss PTT standard type 1931 bakelite handset [1]. The microphone is powered by a 4,5V flat pack flashlight type battery, the circuit requires the microphone battery also when connecting to a CB line. The microphone circuit is closed by the hookswitch. The dial is the Standard Swiss PTT Zenith type 5A [1].
Unique feature
Dial protected by a door which is locked by a mechanism combined with the main lid latch.
Datasheet
Size: 290x195x135mm
Weight: 6.4kg
Material: Hardwood
Battery: 4,5V flashlight battery
Clapper type ringer 3500Ohm
Magneto 500Ohm
Speech coil, choke coil, 1uf and 2uf capacitors
Hookswitch
Bakelite handset, standard Swiss PTT 1931 type
Gallery
Disassembled.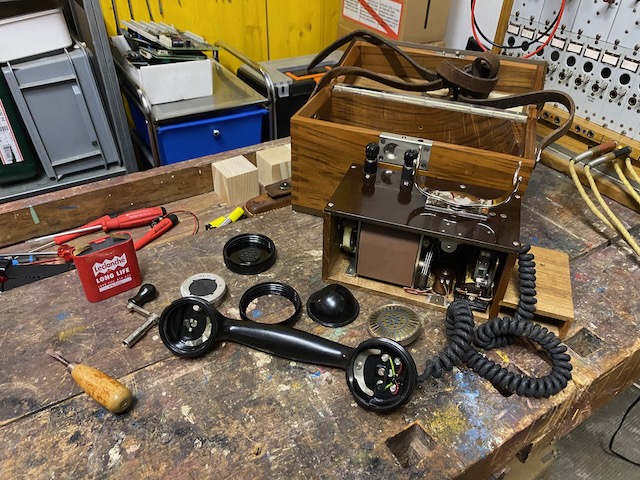 The electrical diagram mounted inside the top lid. The anti-sidetone coil is the same than here. The 600Ohm choke coil is used to close the circuit on CB lines. The 30 Ohm resistor lowers the microphone voltage.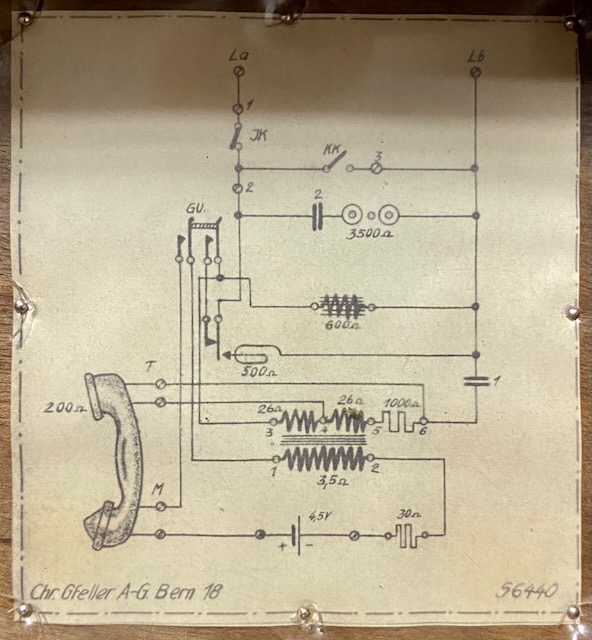 Bakelite handset, Swiss PTT type 1931. On the TX side a Lorenz type capsule made in 1950. A 200Ohm RX capsule.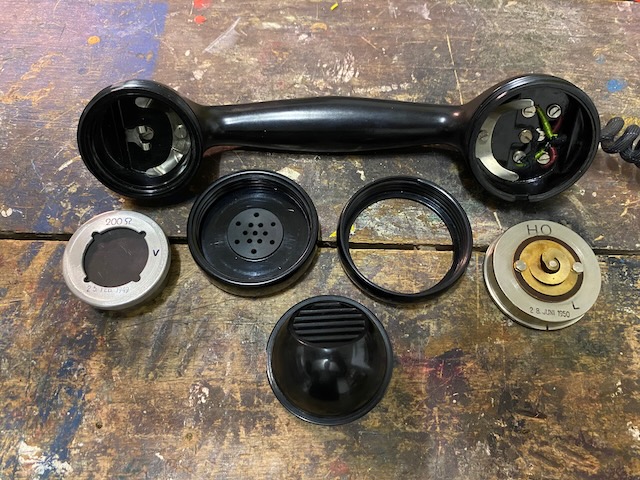 Bottom left the battery compartment. To the right of the dial the choke coil and the two capacitors.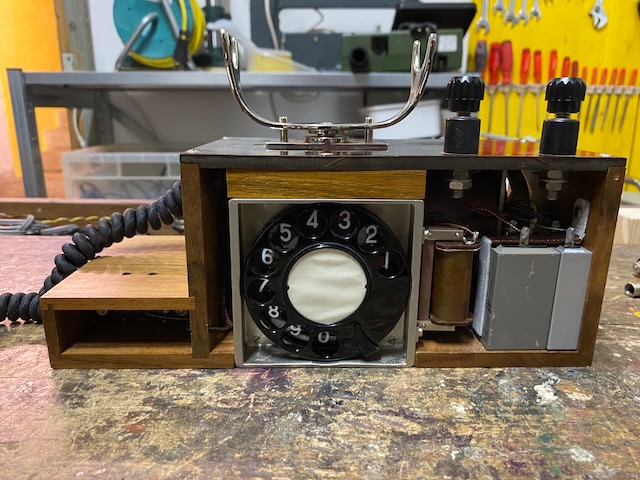 To the right of the magneto the microphone voltage limiter resistance. Beneath that the coil and above that the clapper type ringer.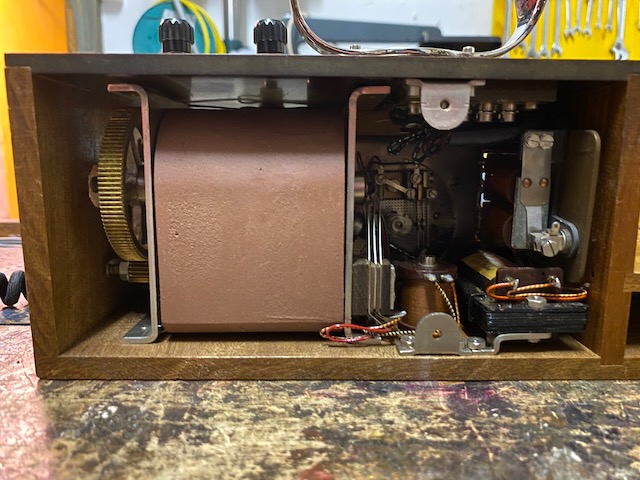 The coil is made in 1948.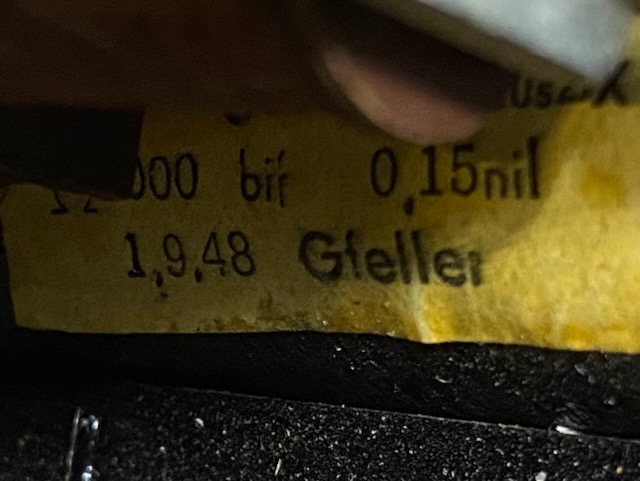 The empty box. Diagram in the lid. Manufacturer (Gfeller) label in the lid, no mfg. date or the date stamp has faded.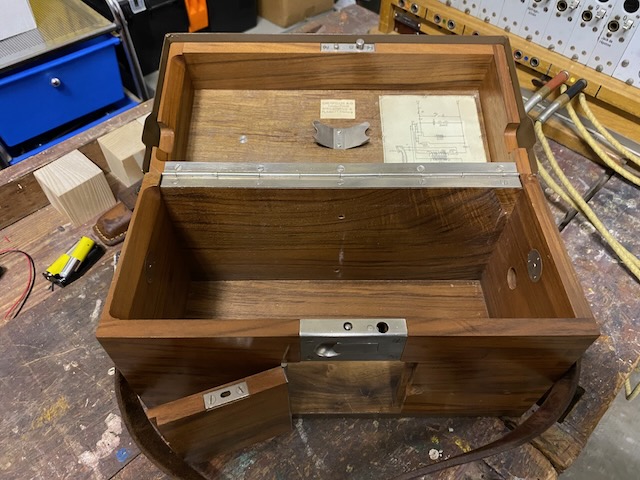 Neatly arranged with a Leclanche 4,5 battery (Assumed ~1970..80 based on material and design).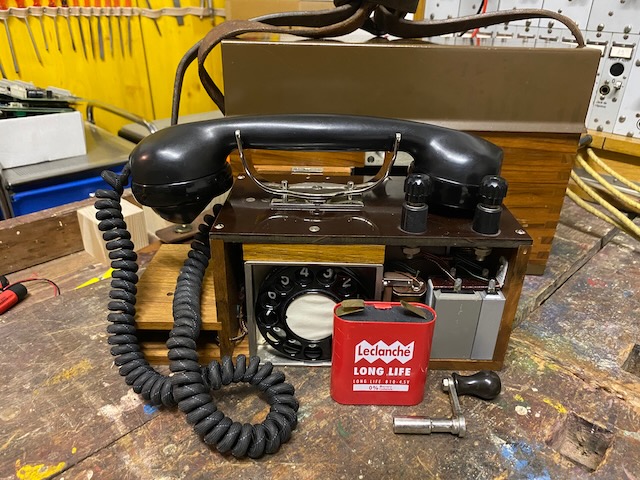 Ready for LB use.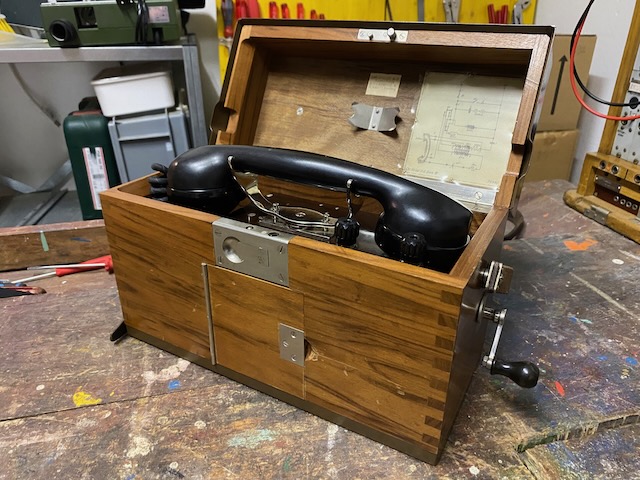 Ready for CB/Aut. use.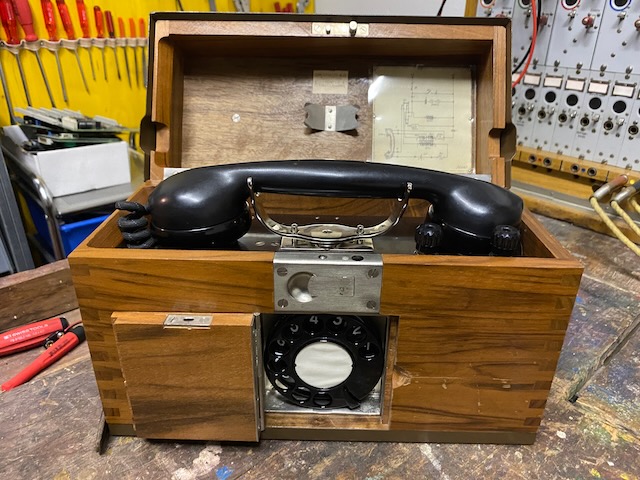 Ready for storage. There is no holder for the magneto handle, it is just "thrown" into the right compartment. The sheet spring in the lid presses the handset onto the hook switch when lid closed.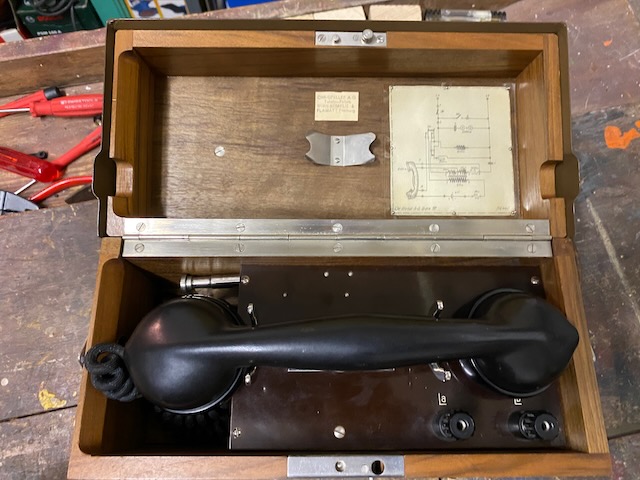 Ready for transport.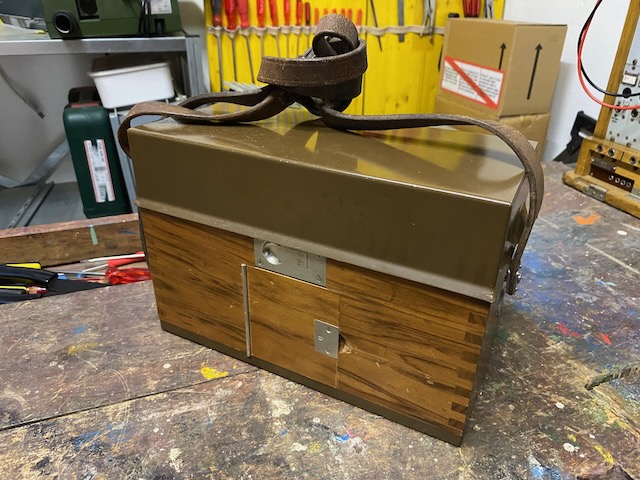 2 screws from the back hold the body in the box.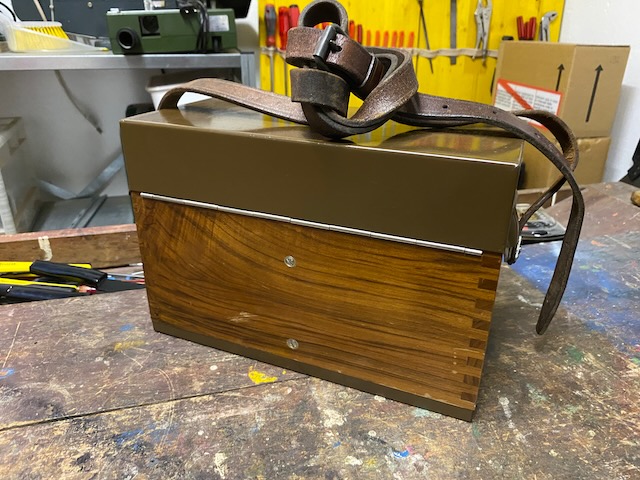 Sources
[1] Hundert Jahre Elektrisches Nachrichtenwesen in Der Schweiz 1852-1952. Bern: Generaldirektion PTT, 1952.
[2] Gfeller Elektro AG the successor of the manufacturer of this instrument is still operating as electrical installations company after they bought back their company from Ascom
---
Creative Commons Attribution-ShareAlike 4.0 International License