---
Episode 22 - Linesman's Test Set Western Electric 17A, 1915
Description
This linesmen test set has been in production from the early 1900 to at least 1939. It can be found in the Western Electric catalogues with part no. 1017A (Catalog 1908), 1017B (Catalogues 1916 - 1929) 1017C (Catalogues 1916 - 1939) 1017A and B are essentially the same, 1017C uses a more powerful magneto.
The here presented one has the designation 17A. As type A is no longer mentioned in WE catalog from 1916 it is assumed that it was made before 1916 but after 1908.
From the 1923 Western Electric catalog:
The No. 1017B test set is provided with the standard local battery talking circuit, but is designed for use both on magneto and central battery lines. The case of the telephone is made of birch with a mahogany finish and is designed to withstand rough handling. A leather strap handle is provided. The transmitter is mounted inside the case with its mouthpiece opposite a perforated plate mounted flush with the outside surface of the set. A switch actuated by a knob, mounted on the top of the case is provided for, connecting either the talking or ringing circuit to the line terminals. A push button is connected in series so as to insure that there will be no drain on the battery except when the local battery talking circuit is being used.
Unique feature
Transmitter built into the device, instead of on a handset. Perhaps this design was chosen as handsets were not yet that common in the US in the early 20th century.
Datasheet
Size: 160x120x200 mm
Weight: 3.2kg
Material: Wood
Battery: Eveready No. 703 (3 Cells 4,5V Flashlight type)
Generator: 29-B
Buzzer: 2-D
Transmitter: 266-W
Receiver: 128-W
Induction coil: No. 13
Gallery
Disassembled.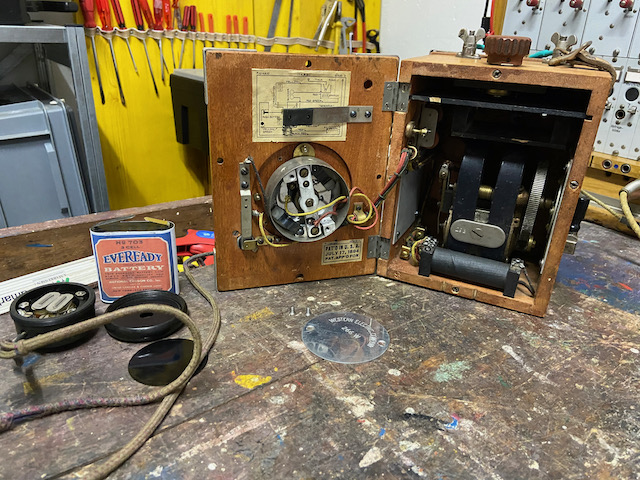 Inside the box. Left of the battery compartment the buzzer. The magneto type 29B. (According to the WE catalogs model 17A had magneto 29A, perhaps a later replacement, or a later made 17A). In front of the magneto the induction coil.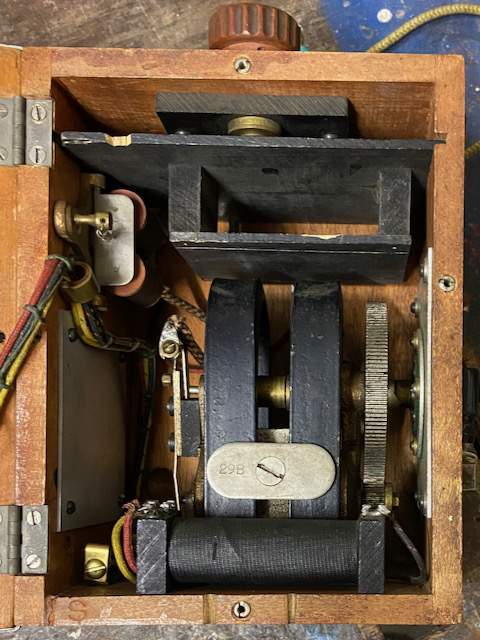 The inside of the front lid with transmitter back open. This is a typical WE solid back transmitter setup.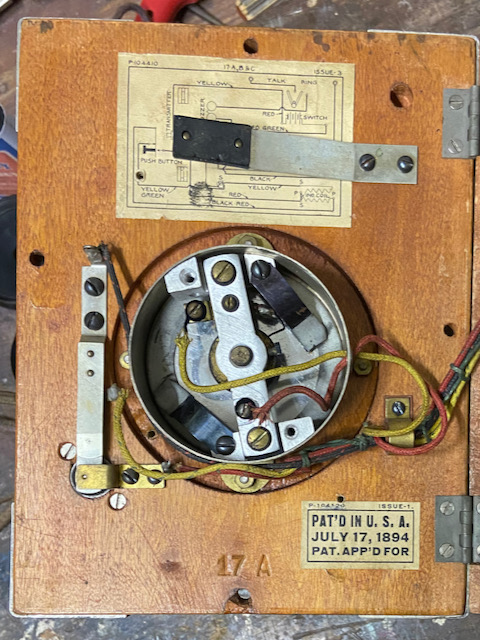 The transmitter back lid. Transmitter modell 266W.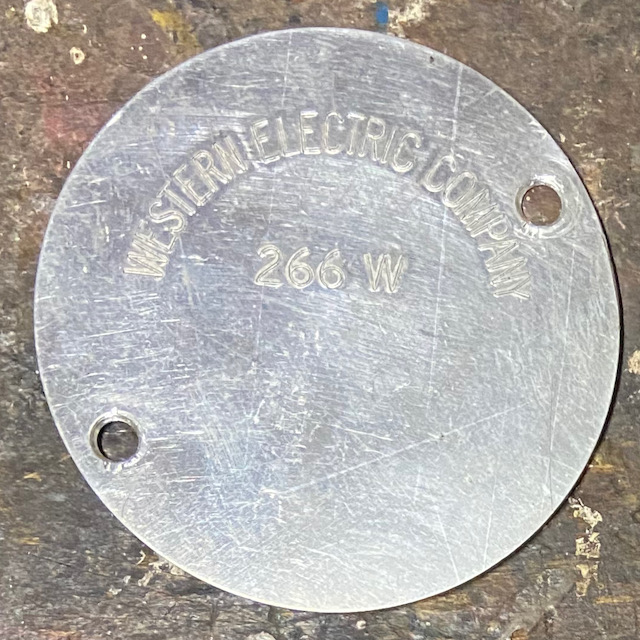 The wiring diagram.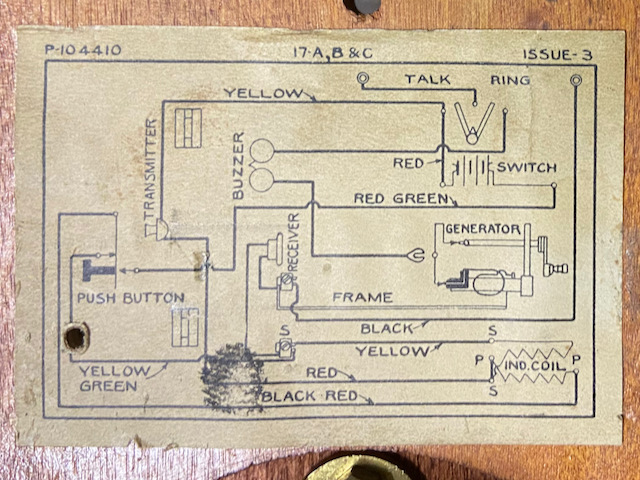 The watchcase type two pole receiver with pluggable cord.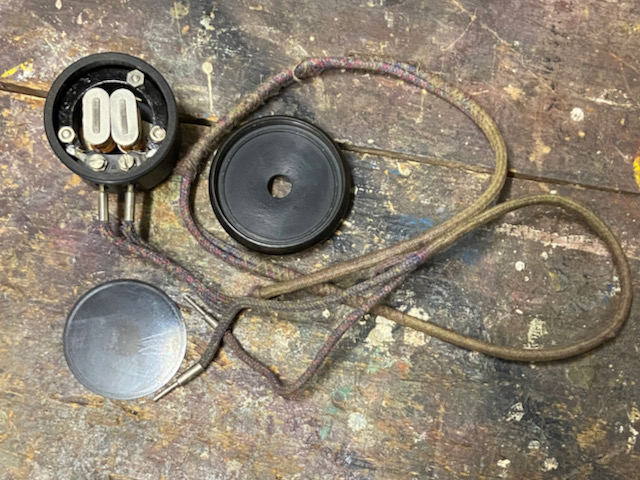 On top a knob to switch between "Ring" (buzzer typ ringer in circuit) and "Talk".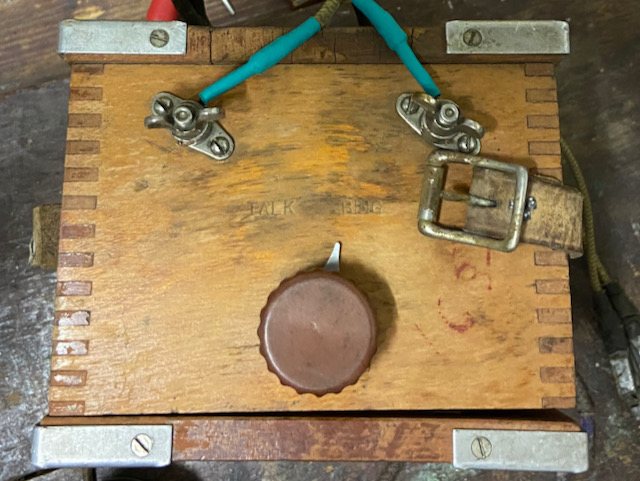 On the right side the foldable magneto handle.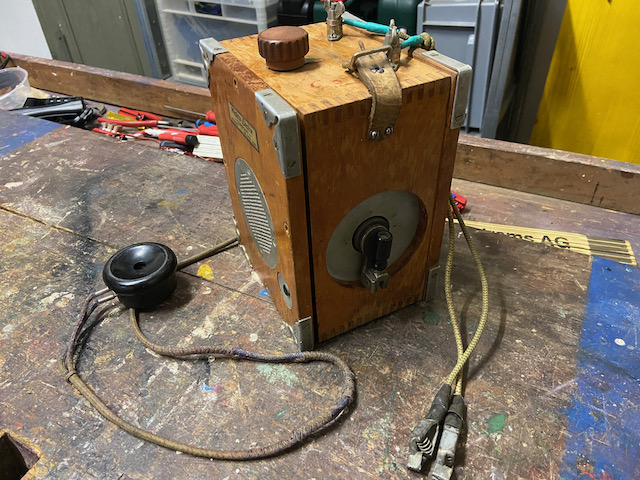 On the left side the receiver is stored.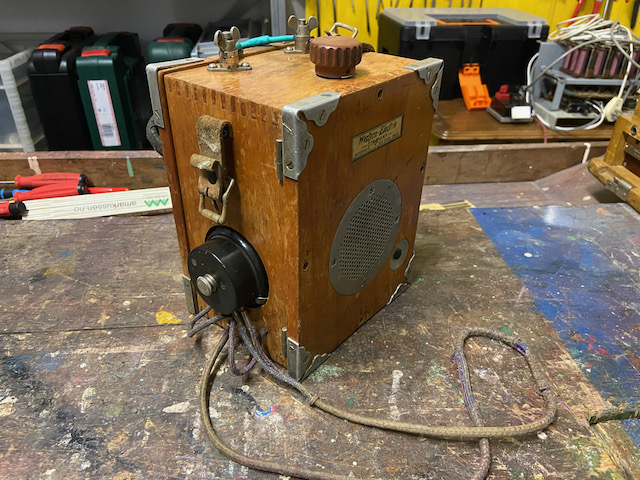 On the front the transmitter and the P.T.T. button. The screws to close the lid are lost.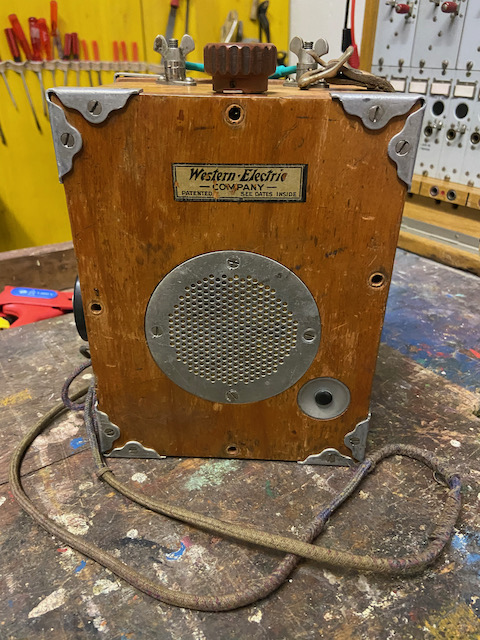 From the back.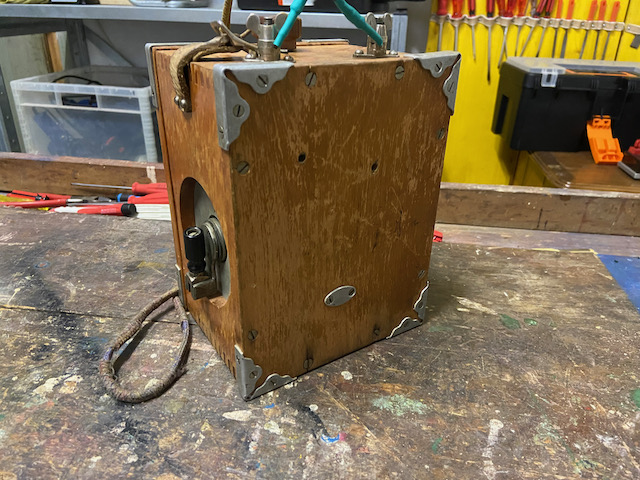 Takes an Eveready No. 703 battery. (This one is a self made reproduction).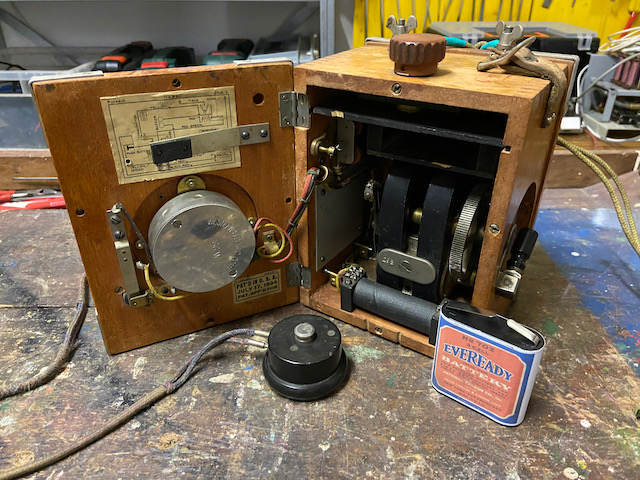 Ready to use.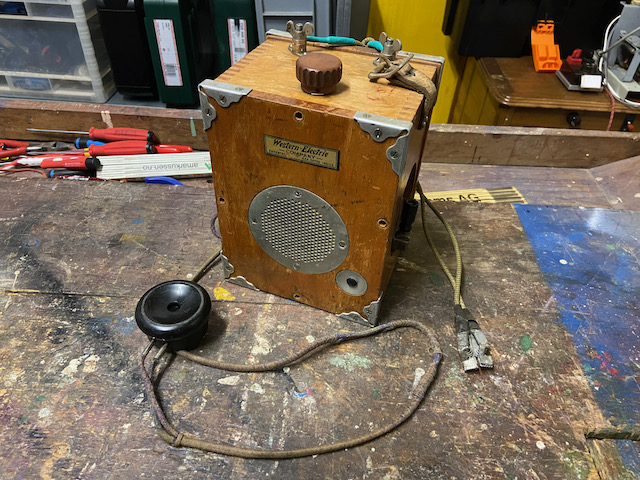 Sources
Fagen, M. D. A history of engineering and science in the Bell System: The early years (1875-1925). Murray Hill: Bell Telephone Laboratories, 1975.
Western Electric Catalogs @telephonecollectors.info
---
Creative Commons Attribution-ShareAlike 4.0 International License